College supporting mass-production of protective visors to aid front-line care workers treating coronavirus patients
Posted: 22 May 2020
West Nottinghamshire College is supporting a major effort to produce one-million protective visors each month to safeguard front-line health and care workers in the fight against coronavirus.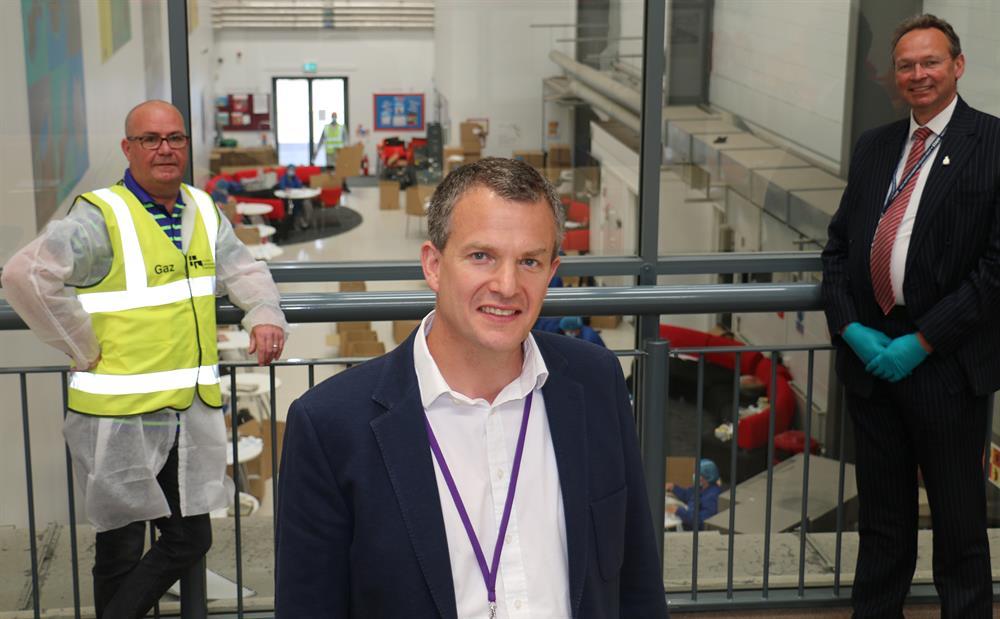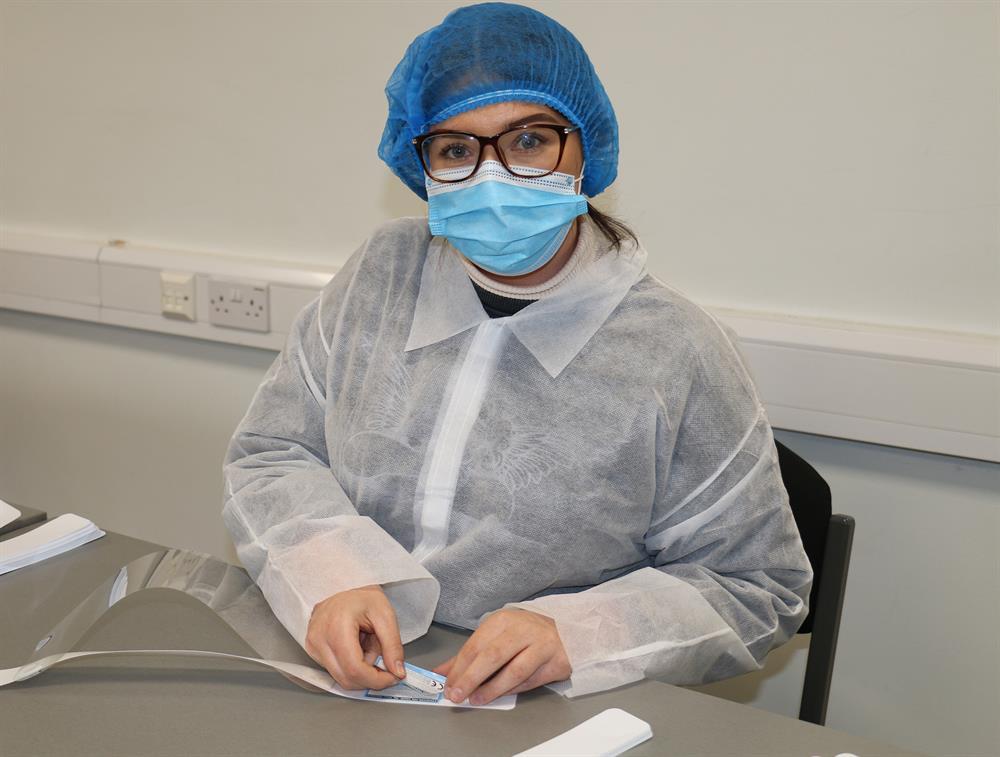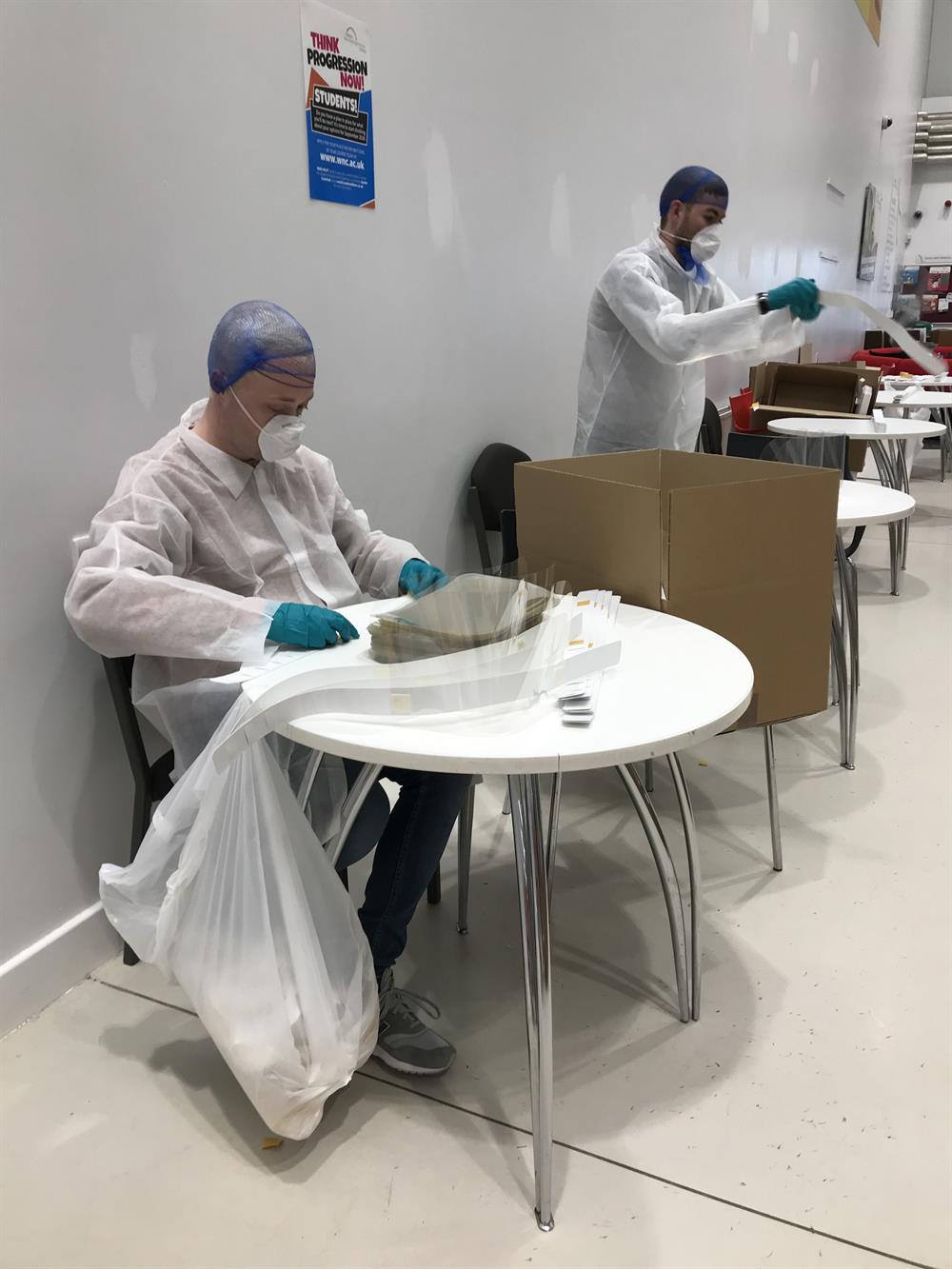 Since early May the college has opened the doors to its Kirkby-in-Ashfield site – which has been closed to students since Friday 20 March due to the national lockdown – to accommodate an assembly line put together by a local recruitment company, which is helping make the personal protective equipment (PPE).
It comes after Blidworth-based printing company Prime Group began making the visors in March, initially supplying them directly to individual NHS trusts. The operation was launched by company director and co-owner Jon Tolley in response to a plea by his wife, an advanced critical care practitioner at a hospital in the East Midlands, who was becoming increasingly worried about PPE running "dangerously low".
Within 24 hours of being handed a cleaned, used visor upon which to base a prototype, the firm had designed, prototyped and manufactured 100 full-face, wraparound visors which were immediately dispatched to the hospital where she works after being approved by the trust's infection control department and clinicians.
The news of what Prime Group had achieved quickly got around.
"We got bombarded with telephone calls from nurses and doctors around the country saying 'please help us'. We realised the enormity of the problem facing the health service and very quickly converted our entire manufacturing process to making the visors," said Mr Tolley, managing director of Prime.
"We were initially supplying as many visors as we could for free to as many trusts as possible and working directly with them on an individual basis, but we knew this was a national problem and thankfully secured a contract to work with central government. This meant scaling production of the vital equipment on a grand scale."
As well as making them at its own premises in Burma Road, the firm has enlisted the support of other local businesses to help expand capacity and increase production by recruiting additional workers and operating out of other sites.
The college made its facilities available to support the operation after being approached by Gary Martin, owner and co-founder of Mansfield company Flexible Recruitment Partnership, which had been asked by Prime Group to help assemble the visors.
Mr Martin and his sister and business partner Caroline Keeton quickly recruited a team of approved assembly workers, including family, friends and people on the agency's books, who are producing the visors at the college campus, off Lowmoor Road.
The workers, who include Gary's son Jay, 21, plus nieces and nephews, work to stringent standards set by Prime, wearing full PPE and maintaining social distancing, with tables set two metres apart and each person working in the same space every day, while all component parts are brought over to them by Mr Martin and Mrs Keeton to avoid contact with colleagues.
Amongst the latest recruits to the 80-strong assembly line is Mrs Keeton's daughter Zoe, 22, a student doctor, who has moved from the 'front-line to production line' after finishing a stint at Walsall Manor Hospital, West Midlands, where she was asked to volunteer her services on the Covid wards while in her fourth year of medical training.
Between them, the workers are assembling many thousands of full-face, wraparound plastic visors each week. The visors, which were awarded British Standards Institute (BSI) CE certification early in the process, are designed for those working in close contact with positive or suspected Covid-19 patients and are worn in conjunction with other essential PPE, in-line with NHS guidelines.
Furthermore, the college site is acting as the warehousing and distribution facility for the operation, with the PPE collected and transported to a central logistics hub.
"As soon as I walked into the college facilities, I immediately saw the building would be an ideal production area and it could also serve as a warehouse and distribution centre for the project. It is a classic flow-line process from a production point of view," said Mr Martin, who has worked in recruitment for 22 years and set-up the firm, which specialises in warehousing, logistics and food production, with Mrs Keeton in 2018.
Mr Martin added: "I've been extremely impressed by the college. The whole team has been extremely accommodating, from the managers who gave us permission to use the facilities, to the cleaners and caretakers who come in each day – nothing is too much trouble.
"It's been an amazing community response. We're being contacted on a daily basis by people who have heard about what we're doing and want to come and work for us.
"I'm extremely proud that we were invited to assist Prime Group in this project. I can't wait to get into work every morning because I know how important this is."
Mr Tolley is also grateful for the support shown by all those involved. He said: "I have an emotional connection to this project through my wife, but there are countless others who work in front-line care – daughters, wives, sons, husbands, mothers, fathers, even grandparents – and if it means they get to go home safely to their loved ones, that's what matters to me.
"I've had letters from NHS trusts thanking us, phone calls from nurses in tears at what a difference it's made, and doctors messaging me hourly. The thanks, of course, goes to all those on the front-line – we're just making stuff. But knowing we're actually helping protect them is heart-warming. It's also helping employ local people during these incredibly difficult times we face."
In a further demonstration of community support, renowned charity National Police Aid Convoys has donated a transit van to Flexible Recruitment for transporting materials to the college and has offered its warehouse space as additional storage.
Andrew Cropley, principal and chief executive of West Nottinghamshire College, said: "I'm delighted we are playing a part in this fantastic community effort in the fight against coronavirus and proud that our team were able to respond so quickly to get it up-and-running.
"Our college is here for our community and, while students are unable to use our facilities for the time being, it is only right we put them to the best use we can. I'd like to thank Prime Group and Flexible Recruitment for all they are doing and, in particular, the workers serving on this new production line."